Free 16 personalities test
According to Carl Jung's theory of psychological types [Jung, 1971], people can see their general preferences based on 16 Personalities Test as follows:
Extrovert (E) vs. Introverted (I),
Sensory (S) vs. Intuition (N),
Thinking (T) vs Feeling (F),
Judging (J) vs. Perceiving (P)
Criteria for 16 Personalities Test
The first criterion, Extraversion – Introversion, tells the source and direction of one's energy manifestation. The direction of the expression of the energy of an extraversion is mainly from the external world, while introversion is primarily a source of energy from their inner world.
The second criterion, Sensory – Intuition represents the method by which a person obtains information. Sensory means that a person mainly considers the information that he receives directly from the outside world. Intuition means that a person primarily considers the information he or she receives from the inner or imaginative world.
The third criterion, Thinking – Feeling, refers to how a person processes information. Thinking means that a person makes decisions primarily through logic. Feeling means that, as a rule, he makes decisions based on emotion, that is, he makes decisions based on what he feels.
The fourth criterion, Judging – Perceiving, refers to whether a person applies information that he or she has processed. Judging decisions means that a person plans all events in his life and, as a rule, is attached to his plans. Perceiving means that it is ready to improve alternative options and explore options.
All possible markings of preferences in 4 different combinations produce 16 different combinations or personality types, indicating that two poles in each of the four dominate an individual, thus 16 different personality types are defined. Each personality type can be given a 4 letter relevant combination of preferences (Combination):
16 types of personalities combination for 16 personality test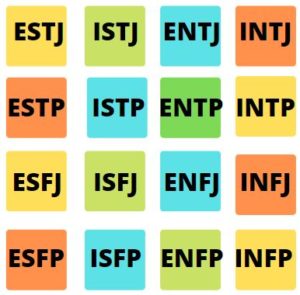 The abbreviation of the personality type matches the first letter – "E" for extraction and "I" for introversion.
The second letter of the personality type abbreviation matches the preference within the sensing-intuition dimension: "S" means sensation and "N" means intuition.
The third letter, in a summary of personality type, corresponds to the preference within the thinking-emotion pair: "T" stands for thinking and "F" stands for emotion.
The next letter of the personality type abbreviation matches a person's choice within the judge-acting pairing: "T" stands for thinking and "F" stands for emotion.
Example:
ISTJ means introvert, sensing, thinking, justice
ENFP stands for Extra iNtuitive, Feeling, Perceiving
Get Ready For 16 Personality Test:
So finally let's get started with the 16 Personality test. Please consider the following points before taking the test.
Guidelines:
There are 52 multiple choice questions having only two options to answer ie. A and B.
Please choose only one option for your answer.
Please be honest while answering. For the final answer, listen to your inner voice. Do not answer to show someone you are not.